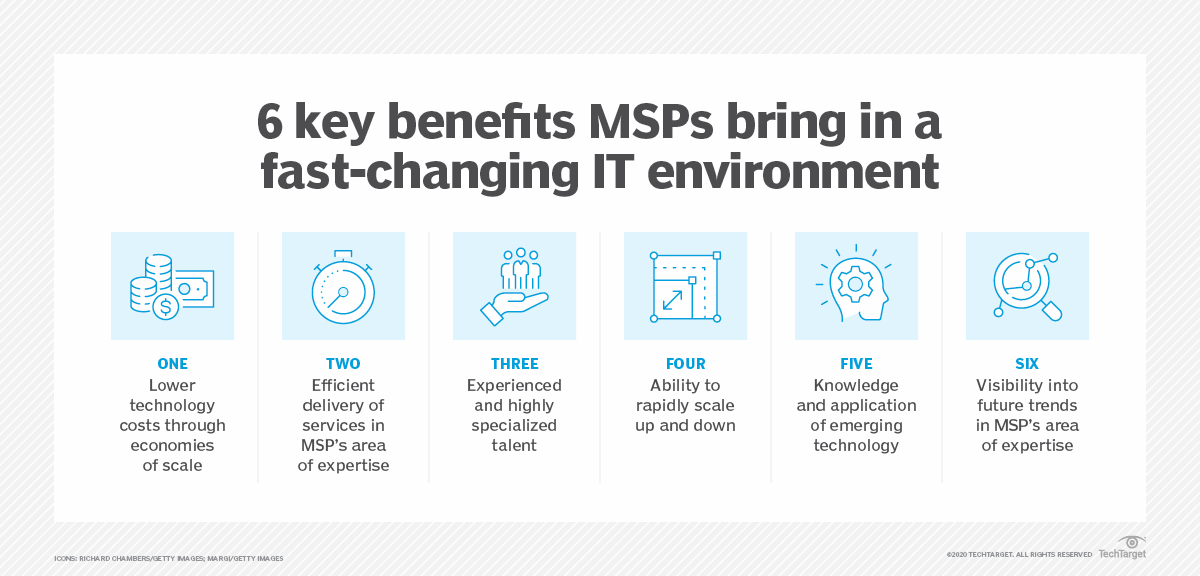 What is a managed service provider?
A managed service provider (MSP) is a third-party company that remotely manages a customer's information technology (IT) infrastructure and end-user systems. Small and medium-sized businesses (SMBs), nonprofits and government agencies hire MSPs to perform a defined set of day-to-day management services. These services may include network and infrastructure management, security and monitoring.
MSPs often handle management services on a daily basis so customer organizations can focus on improving their services without worrying about extended system downtimes or service interruptions.
While some MSPs may specialize in specific segments of IT, such as data storage, others focus on specific vertical markets, such as legal, financial services, healthcare or manufacturing. Managed security service providers, for instance, offer specialized types of services, such as remote firewall administration and other security-as-a-service offerings. Managed print service providers maintain printers and supply consumables. Often, MSPs perform their tasks remotely over the internet.
(Thank you to TechTarget. You can read more about Managed Service Providers and the history of the industry HERE)
The Top 10 Reasons Why You'll Want To Outsource Your IT Support To Us:
Trust Is #1. My team and I are dedicated to your success. We build long lasting positive working relationships with our partners. 
Stress Free IT. We take the stress out of managing IT by streamlining systems and improving workflow. 
Cutting Edge Technology. We are nerds at heart and love playing with tech. Expect nothing less than amazing technology from us. 
We Respond Within 15 Minutes or Less. The average amount of time it takes for one of our clients to get on the phone with a technician. 
No Geek-Speak. You deserve to get answers to your questions in PLAIN ENGLISH, not in confusing technical terms. 
No-Small-Print. Quite simply, if you are not happy with our work, we'll do whatever it takes to make it right to YOUR standards.
All Projects Are Completed On Time And On Budget. When you hire us to complete a project for you, we won't nickel-and-dime you.
Lower Costs, Waste and Complexity with Cloud Solutions. 
We Won't Hold You Hostage. Many IT companies do NOT provide their clients with simple and easy-to-understand documentation that outlines key network resources, passwords, licenses, etc.
Peace Of Mind About Security. Because we monitor all our clients' networks 24/7/365, you don't have to worry that a virus has spread, a hacker has broken in, or that a rogue employee has walked away with the keys to your castle. 
Call us Today at 888-616-6972 for a Free Customized IT Optimization Plan for Your Business Or book an appointment for your free assessment Online Today!
How do I know if NYPC IT Services are for my company?
Our services work best for companies who want to have a dedicated IT team and who have or want Microsoft cloud or local servers and at least 5 Microsoft computers or more. Our offering is perfect for the company who wants to offload as many of the technology services to a 3rd party specialist.  NYPC IT has a specific focus on Cybersecurity and keeping critical information protected. NYPC IT offers many services and we use these tools and techniques to improve workflow and improve your bottom line.
Does NYPC IT take new startup companies with a couple computers?
Yes, we do! NYPC IT has a standard on how IT systems are run and configured. Even a business with two or three computers will still need most of the same infrastructure as a business with 25 computers. NYPC IT. If you as the customer follows our IT systems guidelines, then we will be your dedicated IT team. Please call into our office for an evaluation (888) 616-6972
What are the costs of our small business IT services?
Every business is unique in what technology it uses. NYPC IT does a custom evaluation for every business to properly build out an IT plan. Just as an example here is a price for our basic IT maintenance package for 10 computers and 1 server would be around $500-1000 per month. Just as an example here is a price for our premium Flat Fee IT Complete Package for 10 computers and 1 server would be around $2000-$3000 per month.
Does NYPC IT do hourly rate Break/Fix IT services?
No, NYPC IT does not do noncontract hourly rate work for IT services that involve computers or servers. NYPC IT only does one-time hourly rate services for project work such as low voltage wiring, network installs, Wi-Fi solutions, Dahua security cameras, data recovery services, and custom-built high-end desktop computers.
Call us Today at 888-616-6972 for a Free Customized IT Optimization Plan for Your Business
Let us conduct a Free Assessment, we'll be able to answer your top questions, such as:
Are your IT systems truly secured from hackers, viruses and rogue employees?
Are your backups configured properly to ensure that you could be back up and running again fast in a disaster?
Are you unknowingly exposing your company to expensive fines and litigation under new California data-breach laws?
Could you utilize cheaper and more efficient cloud-computing technologies to lower IT costs and make it easier to work remotely?
Are your systems optimized for maximum speed and performance? (I can tell you, 99% of the computer networks we review are NOT.)
Once we have a clear picture of the state, health and performance of your current IT systems, we'll then deliver a customized IT Optimization Plan that will show you how to eliminate every single nagging problem, enable you to work faster and easier and lower IT costs wherever possible.
At The End of This Assessment, One Of Three Things Will Happen:
1. You love the plan and decide to implement it on your own. If this is the case, we'll wish you the best of luck and ask that you keep in touch with us to let us know how you're doing.
2. You love the plan and ask to become our client so we can personally help you implement it ASAP. If that's the case, we'll knock it out of the park…and that's a promise.
Or finally…
3. In the unlikely and unprecedented event that you feel like you wasted your time, and that we don't find a way to dramatically improve your situation, we will send you a check for $100. No questions asked. Your time is your most valuable asset, and I respect that. To date, we've NEVER had anyone say that we've wasted their time, so I feel completely comfortable making this guarantee to you.
Think about this…
The "worst" that can happen is you get $100 for "wasting" an hour having an independent third party validate and review the security, speed and health of your computer network.
The best that can happen is we work together to finally take all IT complaints off your plate.
Call us Today at 888-616-6972 for a Free Customized IT Optimization Plan for Your Palm Desert Business Or book an appointment for your free assessment Online Today!
Getting Ready to Make the Leap
Here is our brief "Guide to Managed Services" white paper to help you make the right decision.
Download Full MSP Buyers Guide
Office
73280 Hwy 111, Suite 102
Palm Desert CA 92260
1136 Redwood Tree Street
Saint George UT 84790
Hours
M-F: 9am – 5pm
Sat & Sun: By appointment